Go through steps 1 & 2. If your screen is blue, follow step 3. If your screen is black, follow step 4. 

1) Select the Camera
When you open a protocol and see a blank camera screen, click on "Camera" in the top-left of the blue screen window; next click on "Video Source"; choose from the drop-down options. Do any of them work to power on the ColorDome camera?
Make sure Brightness and Contrast settings are set to the following.   Those controls can be found under the "Controls" tab
Open up Camera, Capture_Pin to verify the resolution is set to 360x240
Open up Camera -> Capture and verify that the format is set to NTSC_M
If the camera viewer window is completely absent, then use the SETUP tab and turn on the CAMERA window.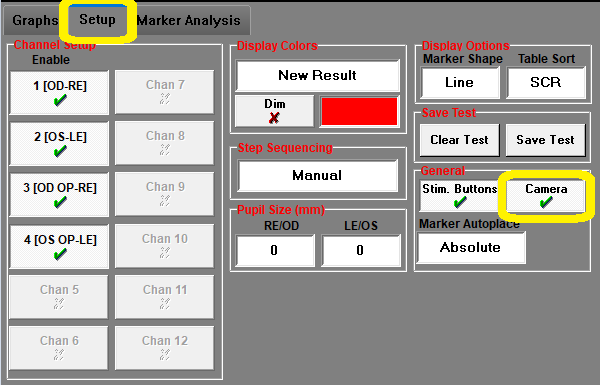 If the camera window is consistently absent, you may need to enable camera through protocol settings. Do so by selecting the protocol, clicking on "modify" then "parameters" and using the Global tab to "Enable Camera at start of test"
2) Check the physical connection 
For a CART SYSTEM, locate the USB cable that runs from the computer to this Video Converter component in the back door of the RED or GOLD unit (note, you may need to use a flat-head-screwdriver to open the door). Unplug this connection from both ends - then re-plug it securely. 
For a DESKTOP SYSTEM, locate the ColorDome Power Supply and unplug the Aux and USB cables from it. Then reconnect the connections securely. 

3) Update driver software 
Open CONTROL PANEL, DEVICE MANAGER. Drop down the "ports" - "sound, video, and game controller" - "universal serial bus controllers"
Remove the Camera USB from the port. Notice which listed driver disappears. Re-plug the USB. 
Right click on the camera driver. Choose, "update driver". Say, "browse computer for driver software". Make sure that it is searching for drives in the C:/Multifocal location. Next & Save. 
4) Check Camera Settings
Navigate into GANZTEST HARDWARE TEST. You can find this either on your desktop or within the C:/Multifocal folder. 
Select the "Camera" tab.

Select the Camera device, commonly called "Conexant" or "USB 2000"
Turn ON the camera to test for an image. 
If no image appears, select "Format" under options. Set Video Decoder Properties to NTSC_M.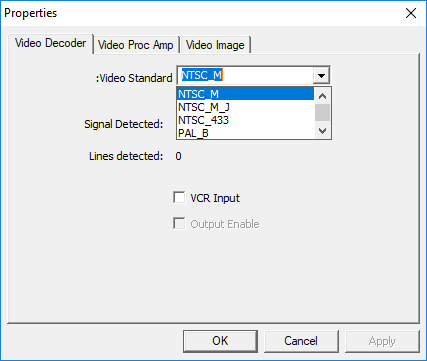 Next, use the Video Proc Amp tab. Press Default, press OK.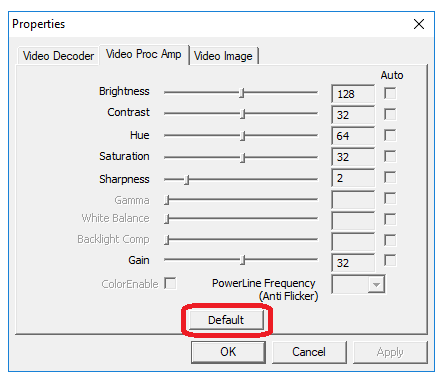 Check Camera Viewer for Image. 
5.  If the image lags, change Video Resolution and Frame rate
Change the resolution to 356 and the frame rate to 30
6. Call Diagnosys Support for further troubleshooting 747.600.2297 or email support@diagnosysllc.com